3/03/2014
PLEASE CHECK BACK LATER FOR ENGLISH TRANSLATION

1/10/2014
PLEASE CHECK BACK LATER FOR ENGLISH TRANSLATION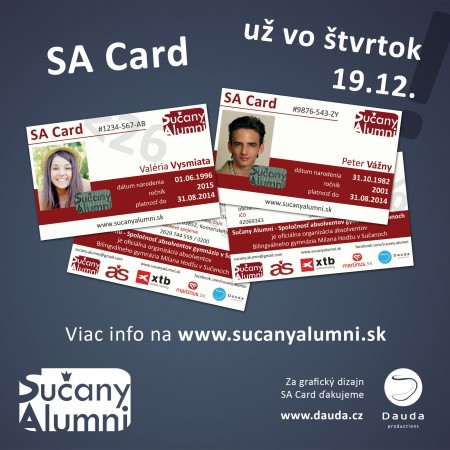 Za grafický dizajn SA Card ďakujeme Samuelovi Daudovi (http://www.dauda.cz).
12/13/2013
PLEASE CHECK BACK LATER FOR ENGLISH TRANSLATION
8/02/2013
Let's go to Mini Fest 2013 organized by our student Petra Trubinská (2014)!
5/05/2013
Sučany Alumny presents you with the exclusive 2€ discount on purchases over 20 € for the whole range of products of the biggest Slovak online bookshop Martinus.sk which you can use monthly!
If you feel like extending your library this is a chance. Books make our lives more diverse—you'll find whatever you feel like reading in Martinus. Now with the 2€ discount on purchases over 20 €!


About Us
Sučany Alumni is the official association of graduates of the Milan Hodža Bilingual Grammar School in Sučany. We are the grammar school's graduates who care about the future of the school, which is still "ours".
Donate to Sučany Alumni!
Via PayPal

Bank transfer - IBAN
SK69 0200 0000 0026 2974 4559