The story of our successful literature and sci-fi loving debater Matej Kohár could be quite inspiring. In this interview you'll learn what kind of student he was and what he had to do in order to get to the school he dreamed about.
(by Kristán Filip)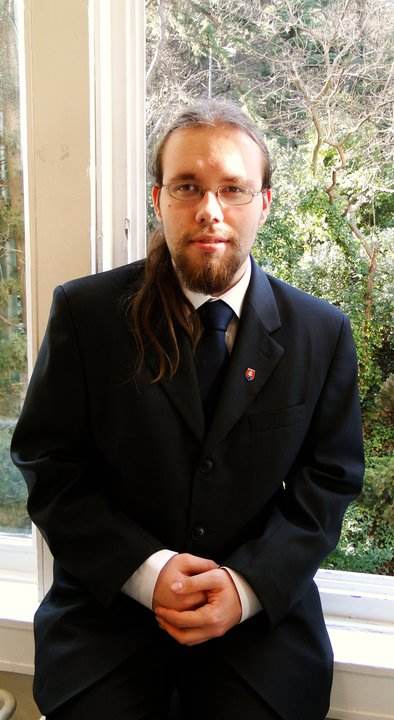 Hello, Matej. We believe that as a fresh GBAS graduate you have a lot to say about your new school and the environment you moved on to thanks to your hard work. Let's start from the scratch, that is, your life before GBAS. Where do you come from? Where did you go to primary school? Did you like it there? What were your hobbies?
I come from Dolný Kubín where I went to a language class at the Janko Matúška Primary School. That school was great and I'm still proud of it. I liked literature (I consider the library in Dolný Kubín my second home), sci-fi and fantasy (I launched a sci-fi club with my friends) and the amateur theatre—which I had to leave after coming to Sučany since I didn't have enough time for it.
What did you like reading at that age? Maybe it'll inspire someone.
At that time I used to read mostly fantasy—classics like The Lord of The Rings, Harry Potter and Ursula Le Guin's trilogy Legend of Earthsea. I just discovered the world of fantasy literature.
Why did you decide to come to Sučany? You already mentioned that you went to a language primary school. Were the languages the main reason for your choice of high school?
It's hard to say whether it was the main reason, but it definitely played a role. Sučany were considered the best choice for ambitious and talented people and trying to get there occured quite natural to me.
Did your parents support this decision?
Sure. My parents wanted me to go to the best school possible.
So, how was GBAS? Were you satisfied with the school and its quality? What were your grades and what about your extracurricular activities? What about your expectations?
I was satisfied with the school, especially with the overall air there. Now we talk a lot about the GBAS spirit and where did it go. I believe that the essence of the GBAS spirit is created by the possibility to implement one's talent and to contribute to the school life not only passively, but by means of actual actions. The openness and the sense of fellowship at GBAS influenced me in a very positive way. Concerning the quality of education—sometimes it was excellent, sometimes a little bit less excellent, but the mere fact that a student is capable of evaluating the quality of education he is getting means that the overall quality must be high. My grades used to be fine, I just wasn't very good at physical education, biology and geography. I wasn't involved in any extracurricular activities in the first year, but in the second year I entered the debate club. In the fourth and fifth year I led the club together with J. Leitmann, V. Janovcová and J. Kokavec. Besides that I worked as a proofreader in KARIS for several months and I was the singer of a short-lived school band named Vociferous Symphony.
We already know you were a member of the Sučany Debate Club. We are also aware of the fact that you are a great and successful debater, you have won several Slovak competitions and are a holder of several titles. Together with other debaters and classmates you built a powerful debate club which poses quite a threat to colleague debate teams from the whole country. How did you get to debating in the first place? What were your first debates like? When did you realize you are really good at them?
You will find the full interview in the Decembre issue (Issue 14) of KARIS school magazine. Support Sučany Alumni by paying for the membership at minimum 5 € and among other benefits, you will be provided with access to the e-version of the magazine (if you are a graduate, a former student or a former staff member). All the money collected is used exclusively for running the organization and supporting the activities of Sučany Alumni. The people who work for SA are exclusively unpaid volunteers who love their school and they think SA project is a great idea. 5 € per school year is the minimum by which you can prove you love our school too and show that you care about its future and the future of our association of graduates. Thank you for your support!