What can the relationship between an association and its founder be like? What is he willing to sacrifice? Tomáš Jacko, one of the best known and the most successful graduates of our school and the founder of Sučany Alumni, has decided to leave SA and move on. How can founding and managing an association like this influence a person and their surroundings? Tomáš answered our questions about his views and feelings about Sučany Alumni.

Hello, Tomáš. So you eventually decided to leave Sučany Alumni and pass the baton to younger and rather less experienced Štefan. During the years you dedicated to SA you managed to turn your visions into a working representative part of our school – the Sučany Graduates' Association. We already talked about how you founded it. Could you try to briefly summarize your feelings about being in its charge?
A good question. You already summarized it quite well. The fact that I founded Sučany Alumni and managed it gave me a lot. I fulfilled one of my dreams, or in fact, several of them and I also hope that I've repaid one of my debts. I'm talking about a rather imaginary debt which originates from the fact that many people have helped me during my studies and in my life although they weren't in any way obliged to. I won several competitions and scholarships which enabled me to continue with my studies abroad. It's these rewards I'm talking about, they have left this feeling of debt in me. Of course, one always thanks those who help him, but I wanted to push it further and hoped that I could succeed in creating something new through which I'd be able to help other people – inspire them and show them the right direction. I thought that'd be the best way to thank the people who had done the same for me. I'm truly happy about Števo. I couldn't imagine a better succesor. Števo really loves our school and that's the main precondition for one to become a great chairman. Moreover, Števo is a dilligent and proactive person with lots of great ideas and I'm sure he will push Alumni even further. And last but not least, he's got a big heart. For me (as well as for the other graduates, I believe) he's an ideal chairman of Sučany Alumni.
How in particular did SA change you? Did it in any way influence your personal and career attitudes?
Of course, SA influenced me massively. I often say that the three years for which I was the head of Alumni maybe in fact taught me more than whole my university. I spent those three years learning and gathering experience about how the third sector, educational system, fundraising, interpersonal relationships and communication actually worked. I was rather young when I suddenly entered the adult world and moreover, it happened in Slovakia. I thought the things would work in a particular way, the way it worked for my schoolmates and the international people I knew, but often they didn't.
Your proposal of the new chairman of SA depended on the limited number of the candidates who ran for the post. Is Števo a suitable person? I'm talking about his ability to actually come to our school, start new projects and follow the work program of SA?
It's true that there weren't too many candidates who'd be willing to be in charge of Alumni. But all of those we had to choose from at the general assembly were qualified. Števo continues his studies abroad, but he'll try to be at the main events the school organizes. By the way, he's got a great support team. I'll continue to help him for a while, but there is also Mišo Kovařík who's living in Brno now and Jakub Brinda, the vice-chairman of Alumni (a current student). Števo has already got a plan how to engage more graduates and students in the projects. The most important thing is that the management of Alumni keep in touch and that's not a problem for Števo.
Let's move to the highlights of your leadership. You brought forward interesting innovations, new projects, new philosophy in general and a brand new view of a Slovak high school, a view that hasn't been accepted at any of the schools before, not even at our one. You rewarded the students as well as the teachers, you taught the students to write CV's and helped them with applying for the foreign universities they dreamt of. I think we can call this progressive thinking in Slovakia. It's something that you – the graduates – learnt in the West. So what was the main idea of SA for the last three years, what did this association want to give to the school and what's going to change with the new management?
I wanted Alumni to deal with graduates at least as much as with current students, but most of the activities were eventually focused on the students. I think Števo will want to tip the scales slightly back to the graduates. You see, the graduates' associations in the world are oriented on the graduates. I didn't want it to become some kind of a "party" for the graduates. I wanted to create something really exceptional and worth following. What I'm talking about is that we wanted to help the current students and to motivate them, that's what makes SA outstanding among graduates' associations even internationally. We know that the Sučany students have always been extraordinary. And being extraordinary means being a real personality, thus doing things the way that can serve as an example for the others. You can read this on our website: "We want to help the current students get to the best universities by supporting their personal and career development ." But from my point of view, it's not just about good grades and getting to a good university, though. Even a person with a basic education is capable of making the world better and serving as an example for the others. That's what I was thinking of when I decided to focus Alumni on as many students as possible.
Why do you think SA is important for our school and Slovakia in general? Hasn't it already brought forward the basic ideology mentioned? I thought the misson of SA was to slightly change the way of thinking of our school.
It's very difficult if not even impossible to change the way of thinking of either a person, or an institution. The best would be if schools founded and managed their own graduates' associations, communicated and invited the graduates and tried to motivate them to participate in the school events. Not only financially. Above all, the graduates should contribute with their experience, knowledge and contacts. They could think of contests, search for sponsors and actively communicate with the public, etc. We tried to inspire the others. We brought plenty of projects, ideas, improvements and advice. But it hasn't been in our power to push it all through. The decision itself lies with the parents, teachers, the school administration and other representatives. But we'll always be here to help.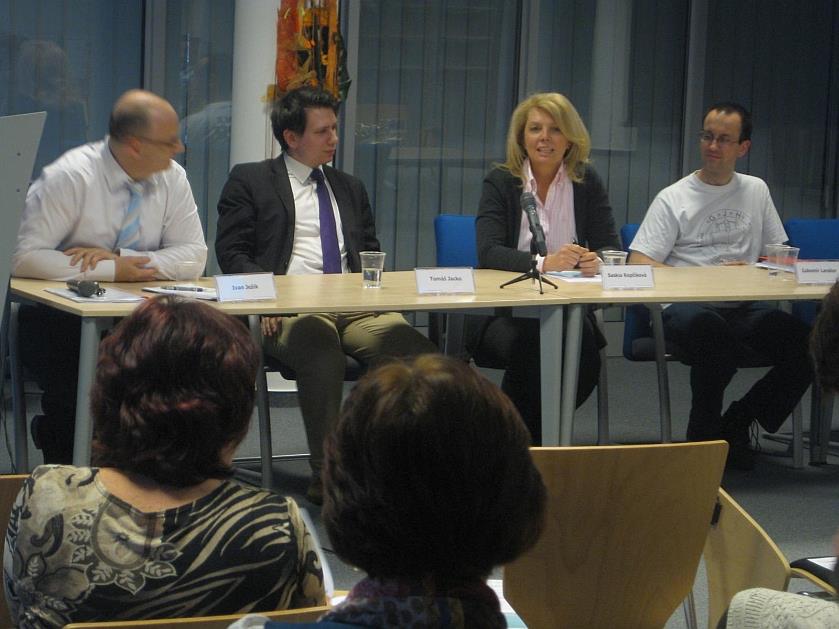 Tomáš at the panel discussion about how to help schools establish graduates' associations.
So, to become an example is how you want to teach the school to do things better. Recently we had a chance to see the way you chose was probably the right one. Sure there were some minor failures, but anyway, you've been rewarded with the Youth Council of Slovakia's award MOST 2011. This award is valuable not just for you, it has actually strengthened the position of SA. Could you please tell our readers more about this award? What does it mean to you? What exactly you've been rewarded for?
Watch out, I'm not saying we wanted to teach anyone. I'd rather use the word "inspire". Of course, there'll be people who'll take it for a synonym. Yes, the jury award MOST 2011 means that even the people outside our school can appreciate our idea and our work. Since it's an award of Youth Council of Slovakia, the jury focused mainly on our work with students – it proved a right and beneficial job. The ceremony took place in KC Dunaj in Bratislava. The room was crowded with young people – there were about 200 of them. The event was hosted by Samo Trnka, Tomáš Hudák and Kristína Farkašová who enertained us. It felt good to feel the appreciation even from the people who had nothing to do with Alumni. Don't get me wrong, I mean the idea of SA is so powerful, it attracts even the people who are unrelated to our school. Of course, the award was "merely" symbolic, but I honestly appreciated it – it was a special jury award.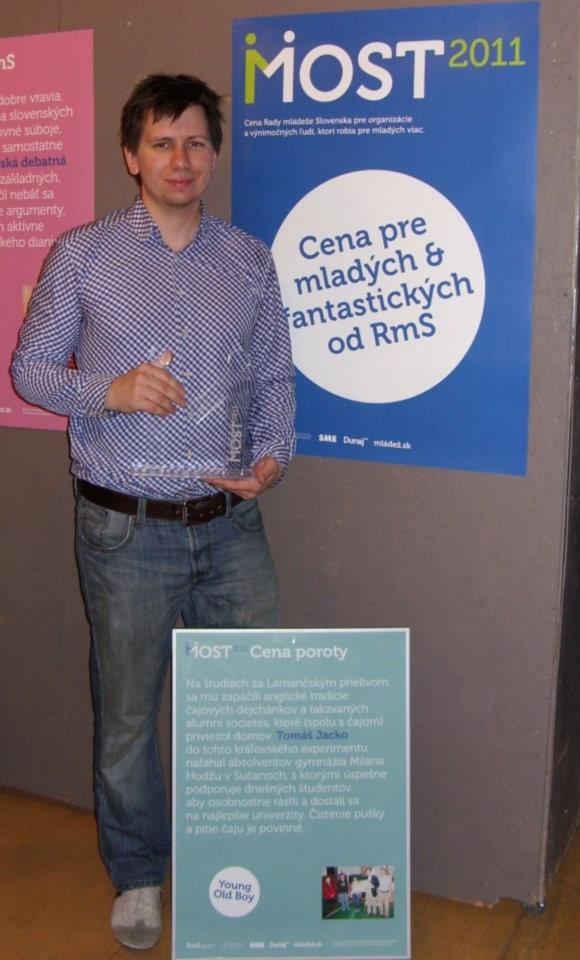 Tomáš at the Youth Council of Slovakia Award MOST 2011.
What about your current relationship with GBAS? How often are you planning to visit the school? Will you still be willing to help the students?
This is probably the most difficult question. Those who know me are surely aware that there were things that have disappointed me. The more I dedicated myself to the school and wanted to selflessly help, the more things remained misunderstood. Sure, we succeeded in many great projects, yet one bad thing hurts more than 100 good things can please, such is life. I feel I need to give myself a break from Sučany. I think the people at the school will appreciate it as well as my family and friends whom I rather neglected for 3 years because of Sučany. I hope I'll leave SA's management finally by the end of the year. Sure I want to come back to school, but only as an ordinary graduate – at least once a year I'll come to the Garden Party. Sučany will always be the best school in Slovakia for me.
Tomáš was interviewed by Kristián Filip. You can find more about Tomáš on his profile and the previous interview.
The interview was published in the September issue (Issue 13) of the Karis school magazine. The graduates, former students and former staff who are the members of SA will obtain the e-version of KARIS between 8th and 14th October or after registration and payment for the membership. We would like to thank all our donors and members for their support!